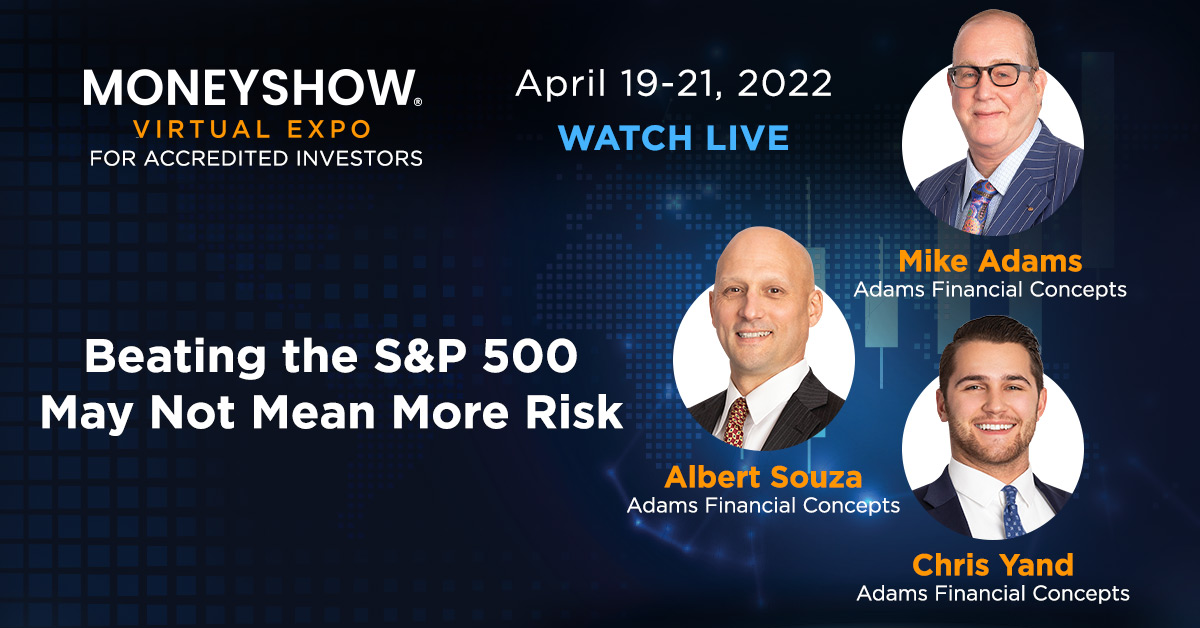 Watch Mike Adams, Al Souza, and Chris Yand Live on Any Streaming Device!
Beating the S&P 500 May Not Mean More Risk
Wednesday, April 20, 2022 | 1:35 pm – 2:05 pm EDT
It is true that higher returns usually mean higher risk. But does it always mean that? For 17 years the composite of our client accounts all inclusive and net of fees and costs has done better than the S&P 500 with dividends reinvested.
Save a free spot while space remains!
---
In 2022's volatile markets, it's imperative that investors actively evaluate their risk-management and portfolio-diversification strategies as economic trends evolve and new market catalysts emerge. It also helps to get real-time advice from world-class financial experts on the best opportunities for protecting and growing wealth.
Join us online for MoneyShow's next Accredited Investors Virtual Expo, April 19-21, where I'll share the virtual stage with Ken Fisher, Thomas Lee, Phil Flynn, Louis Navellier, Katie Stockton, Jeff Hirsch, J Mintzmyer, and dozens of other investing and trading experts.
During 30+ live presentations, you'll get in-depth market analysis, innovative strategies, and specific recommendations on everything from stocks, real estate, pre-IPOs, and precious metals to private placements and other alternative asset classes.
I encourage you to save a free spot while space remains…and to bring your most important questions. Each presentation features live Q&A so you can get answers to the questions that are important to you. Plus, in the Virtual Exhibit Hall, you can learn about new tools, services, and opportunities by exploring virtual booths and adding research reports, investor kits, newsletters, and exclusive offers to your digital briefcase.
Hope you'll join us,
Mike Adams
President and Principal, Adams Financial Concepts, LLC